Join the fastest growing sport in the country with the organization that offers the most benefits for players, clubs, and cities.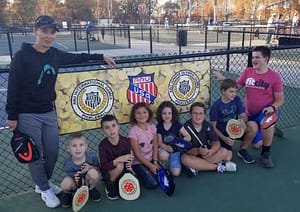 The Amateur Athletic Union (AAU) has been raising champions for more than a century. Since its inception in 1888, the AAU has set the standard for amateur sports in the United States with one goal in mind: "Sports For All, Forever." It is more than a motto – it has been the focus and drive of AAU for 130 years and counting for sports in the United States and throughout the world.
One of the largest, non-profit, volunteer, multi-sport event organizations in the world, the AAU is dedicated exclusively to the promotion and development of amateur sports and physical fitness programs. The AAU philosophy of "Sports For All, Forever" is now shared by nearly 700,000 members and 150,000 volunteers across 41 sports programs and 55 U.S. districts.
The AAU was founded in 1888 to establish standards and uniformity in amateur sport. During its early years the AAU served as a leader in international sport representing the U.S. in the international sports federations. The AAU worked closely with the Olympic movement to prepare athletes for the Olympic games. In the late 1970's, the AAU reshifted its focus and efforts to providing sports programs for all participants of all ages beginning at the grassroots level.
To learn more visit the National AAU Website.
Millions of young athletes participate in sports across America on a daily basis. Numerous volunteers give countless hours in coaching young athletes and in directing and hosting events.  There is an inherent risk involved in any athletic endeavor whether as an athlete, coach, bench personnel, administrator, instructor, manager, official, team leader, tournament director, volunteer, spectator, parent or event operator.  The AAU has addressed many of those inherent risks through a comprehensive insurance program that is second to none in the youth sport industry.
The AAU's insurance program is a benefit of membership and extends to  those who are members of the AAU (athletes, non-athletes, club) or affiliated with the AAU through its members. Evryone participating must have an AAU Athlete or Non Athlete Membership.
The AAU insurance program is comprehensive in nature and provides protection for athletes while participating in competitions and practices, coaches while instructing, event operators while conducting licensed events, spectators while attending events, and facilities while partnering with AAU members.
There are two broad types of insurance coverage included in there AAU insurance program:  Sport Accident and General Liability.
Sports Accident: Coverage is provided for properly registered athletes or non-athletes who are injured during an AAU licensed event, supervised practice or while participating in the Extended Coverage (AB) membership program.  Coverage is excess medical and becomes primary if there is no other coverage available.
General Liability:  Coverage is provided for properly registered athletes, non-athletes, member clubs/teams, event organizers, promoters, facilities, sponsors, managers, spectators and volunteers covering claims due to damage or injury caused by negligence or acts of omission during performance of duties or conducting business (such as running events or hosting a practice.)
As a benefit of the general liability coverage for AAU members clubs and event hosts, the AAU also has an Insurance Certificate Program.
MIKE NIELSEN - EXECUTIVE DIRECTOR
Mike has been a land developer for the past 35 years. He has developed over 2,000 acres including development of several pickleball venues. His passion for the game is fueled by the excitement he shares from playing and teaching others to learn the game.
JOLENE NIELSEN - DEPUTY EXECUTIVE DIRECTOR
Jolene is a former Director of Region IV for the USA Youth Pickleball which included a 14 state area. Her resume also includes the management of over 800.000 players during her time with youth soccer organizations.
dr. rommie maxey - managing director,
pro certification and instruction
Rommie is a former Athletic Director of 20+ years with a PhD in Biomechanics. Pickleball is now his passion from player (USA National Champion) to teaching and coaching. He is excited about the way pickleball is evolving and hopes to continue to grow the game.
claudia fontana - director of instructional training
Claudia has developed a visual teaching method to help beginners and the elite play pickleball with purposeful shot selection. She has been an active leader in the sport of pickleball for many years.
Inquire below to find out more about AAU coaching certifications, school or small group clinics, and volunteer opportunities in your area.